About Yellow Dot Designs
Yellow Dot Designs is the graphic design studio of Ellen Hamilton, located in Alexandria, Virginia. The studio specializes in logo design, and motion graphics for video. Ellen majored in painting and printmaking at VCU, and later earned a degree in communication design. She worked as in-house graphic designer at a DC publishing company for eight years, leaving in late 2007 to open Yellow Dot Designs. She joined the Chamber of Commerce in Alexandria, and has worked with many businesses and groups on marketing and event materials both in print and online. In 2011, Ellen started learning motion graphics using After Effects with the goal of creating film intros and titles. She became active in the video and film industry, joining "Television, Internet and Video Association of DC" (TIVA), and participating in "Women in Film and Video" (WIFV) events.
Contact
Ellen Hamilton
Yellow Dot Designs
Alexandria, Virginia, USA
ellen@yellowdotdesigns.com
703.328.8046
Yellow Dot Designs. What does it mean?
Yellow is warm like the sun.
It is unassuming and friendly.
Yellow is a color. A dot is a shape.
Artists work with color and shape.
Dot com generation.
A dot is punctuation.
Graphic designers work with punctuation.
A yellow dot is a visual image that helps you remember.
Yellow Dot is a design studio in Alexandria.
Yellow Dot Designs is here for you.
Projects
Video
1. Why They Left: A Scottish Migration a documentary film. Most Americans of Scottish descent don't know where their ancestors came from, why they left, and on what ship and where they arrived. These details have been lost to the generations. This film tells why the Scottish Lowlands became so crowded, and what life was like there. The reasons that caused people to leave everything they knew, climb aboard a crowded and dirty ship, and sail in unspeakable squalor for many weeks to start a new life, penniless, in an unforgiving land.
The cotton revolution was as big as the digital revolution today. Bigger when you consider the changes it brought to Scotland. Scotland as we know it was born.
Visit Scottishmigration-film.com

To support the project go to www.gofundme.com/Scots-Doc
Video projects last year were:
1. Real Estate video for a large mansion is done for Ann Shack of Keller Williams. This is a 24,000 square foot home in Great Falls. Mansion-Video
2. The 5 minute interview/documentary video on Street Sense vendor Wendell Williams is done!Wendell talks about how Street Sense helped him gain control of his life. I did the cinematography using a Sony HDV camera with help from Margaret Kennedy. I got Wendell's GoFundMe page live, and it is mentioned in the ending credits. Wendell-Doc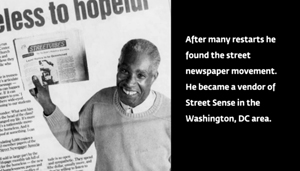 Print Design
1. Book cover design: Dreaming America. A book of poetry by undocumented youth in maximum security destention. Published by Settlement House.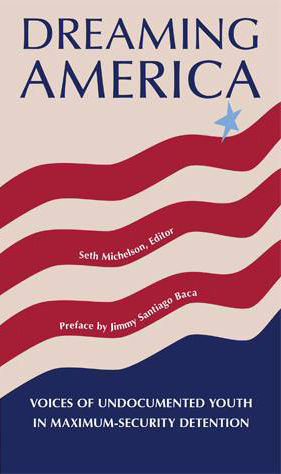 2. Bar graphs, scatter graphs, pie charts and custom graphs for a publication.
3. A fund-raising package, flyers in a folder, is in the works for a non-profit media company.
Websites
1. A website for Hollin Hall Memorial Services can be seen here. Hollin Hall has many gorgeous indoor and outdoor spaces for memorial services to remember loved ones. I was amazed at all the intimate shrub-enclosed gardens and patios they have. They want to make this known to the world, so this website will help.
2. I helped get the new Wordpress website for the Del Ray Artisans up and running. Lots of functionality was needed with a calendar for members, artists, media and more. You can see it here.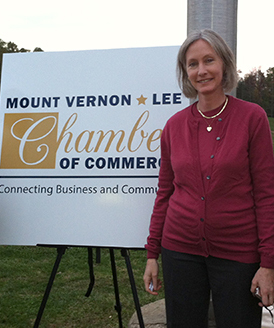 About Ellen
Ellen began designing in the mid '90s. She opened a studio called Yellow Dot Studios. She worked with Alexandria businesses and restaurants designing logos, menus, letterhead, and doing illustrations and murals. Later she was the in-house designer at Thompson Publishing Group in Washington, DC for 8 years, designing book covers, marketing materials and graphics for the company website.
Ellen published commercial calendars for 2006 to 2008. In late 2007 she opened Yellow Dot Designs.
Ellen earned degrees in art at Virginia Commonwealth University in Richmond, Virginia, and in Communication Design at Northern Virginia Community College in Alexandria. You can see a portfolio of her work over the years at ellenhamilton.com.
Ellen grew up in Pittsburgh, Pennsylvania but spent her teen years in Germany, where her father taught English at the University of Kassel. Along the way, she learned to speak German, French and Spanish.
Ellen has been active in several business and arts groups, including WIFV (Women in Film and Video), Docs In Progress, TIVA (Television, Internet and Video Assn), AIGA (American Institute of Graphic Arts), Alexandria Chamber of Commerce, SBDC (Small Business Development Center), WEBA (West End Business Assn) and other business groups. She is interested in history, and served on the Alexandria Archaeology Commission for 6 years.
Ellen lives with her husband Andrew, who comes from the county of Renfrewshire, in southern Scotland.